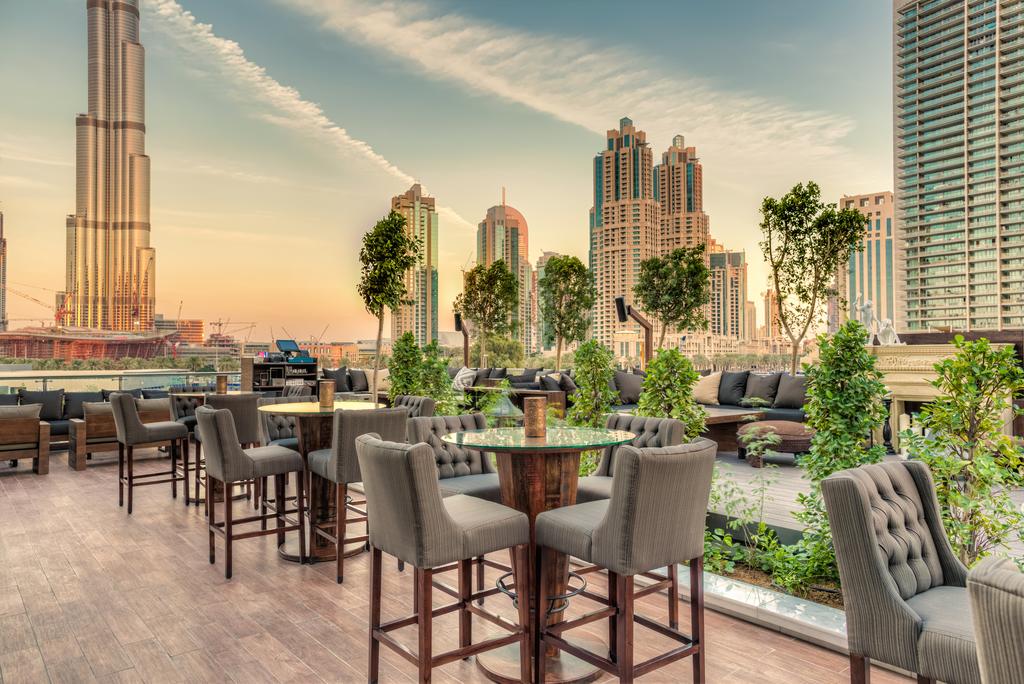 Dubai is the city of luxury and splendor that has made Dubai an attractive tourist destination for visitors in recent years. For the perfect trip to Dubai with your family, you need to equip yourself with Dubai travel experiences such as the best things to do with kids, best family hotels, and best restaurants. Especially for hotels, you need to consider carefully choosing the hotel that suits your budget, as well as utility needs such as near the center, non-smoking room, swimming pool, breakfast service. And the list of 10 best family hotels in Dubai below will help you in choosing a suitable hotel for your upcoming trip with your family.
1. Taj Dubai
The Taj Dubai Hotel features rooms that offer panoramic views of the unique Burji Khalifa. And this luxurious hotel is located in the center area with Dubai Mall and Dubai's famous Downtown nearby. In particular, the hotel also serves a free shuttle bus to these places. In the Taj Dubai hotel, rooms are designed in a luxurious and modern style creating a sense of comfort for your whole family while staying here. At Taj Dubai, you will find a range of classic and modern restaurants, lounges, and bars. Your family can enjoy delicious British & International cuisine at The Eloquent Elephant. Or relax at the Byzantium Lounge with art deco or enjoy the spectacular Burj Khalifa from an oasis atop an urban rooftop. Certainly, you will have a wonderful stay at the Taj Dubai Hotel.
2. Millennium Plaza Hotel
Millenium Plaza Hotel is one of top picks in Dubai in the large hotel booking website. The hotel is located in the dynamic financial area of Dubai so you can access to all places to visit easily. And especially Emirates Towers MRT Station is located right in front of the hotel and easy access to many sighseeing places in Dubai.The hotel rooms are quite large and spacious, suitable for family trips. And of course there is international buffet restaurant serving all day, convenient for your meals on the trip. The outdoor rooftop pool will be the place for the whole family to relax after the days of sightseeing and traveling in Dubai.
3. Gevora Hotel
Gevora Hotel prides itself on being the tallest hotel in the world. The hotel is located in the commercial center area of the city. Therefore, this is an ideal place for you to travel easily and conveniently during your visit. And especially, there are 5 restaurants at the hotel which help you have more options for exploring cuisine from the taste of the Middle East, Mediterranean to Asian and European cuisines. The rooftop pool also has a children's pool area, which is very safe for children. Definitely, this is the hotel you need to consider for your upcoming family trip to Dubai.
4. Towers Rotana
Tower Rotana has such a nice location while it is adjacent to the Burji Khalifa, near Dubai Mall Dubai International Financial Center and Jumeirah beach. The hotel is also located opposite the subway station, which will help you conveniently use public transport. The rooms here are decorated with modern artwork, giving you extremely luxurious and comfortable living space. And of course, the hotel owns many restaurants serving a full range of Middle Eastern, Japanese, Chinese to Indian and Italian cuisines. The restaurants here will help you solve the eating problem during your trip. The rooftop pool overlooking Jumeirah Boulevard will help your family have moments of relaxation and fun after a day of touring the whole city.
5. Manzil Downtown
Manzil Downtown, a 4-star hotel in the old town of Dubai's commercial district is also a best family hotel in Dubai for your family trip. The hotel combines traditional and modern Arabesque architecture extremely prominent between the old town. And especially an outdoor swimming pool with sun loungers and watching the sky view extremely romantic. And of course, the Mediterranean-style cuisine at Boulevard Kitchen is sure to delight you.
6. The Oberoi
Oberoi Dubai is a contemporary luxury and one of the best family hotels in Dubai. And of course, the hotel's competitive advantage is the crisp views of the Burji Khalifa from the hotel's rooms. In particular, the hotel has free buses that take guests to nearby attractions such as Dubai Mall and Dubai International Administrative Center and Emaar Square. The hotel's all-day restaurant system with a variety of cuisines from around the world will make it easier for your whole family to eat during the trip. What unforgettable journey in Oberoi Dubai.
7. Rove Downtown
Another great opinion for your family's trip to Dubai is Rove Downtown. Rove Downtown Dubai is conveniently located, right in the commercial center of Dubai and adjacent to Burji Khalifa. The attraction here is Reel Boutique, a mini-movie theater that helps you have fun watching movies with your family. In addition, the hotel also has an entertainment area, with sports such as indoor Golf, or decored with toys for children. Help your family have moments of fun together on a great vacation in Dubai.
8. Radisson Blu Hotel
Located next to the Dubai Canal near Business Bay is the advantage of Radisson Blu Dubai. A hotel with family rooms will make you feel like staying in your own apartment during the trip. In particular, you can enjoy the swimming pool and terrace overlooking the Dubai canal, a children's club for families with children.
9. Address Dubai Mall
An outdoor style hotel you should consider is Address Dubai Mall. Located in the bustling Dubai business center and adjacent to the Burj Khalifa, Address Dubai Mall is conveniently located for a family-friendly visit to Dubai. When checking in, the hotel makes the first impression with a lobby serving snacks and sandwiches. Especially here, you can experience outdoor dining at Cabana restaurant with special grilled dishes.
10. Address Downtown
And last but not least is Address Downtown, one of the best family hotels in Dubai that you can consider for your trip. Located on a height of 302m of Downtown building, Address Downtown will bring you extremely unique and new experiences. And at the hotel can be connected to the world's largest shopping mall – the Dubai Mall by a bridge. Although only a part of the building, the rooms here are spacious and fully equipped with modern facilities for guests. And you can choose the specialties of the Middle East at the restaurants in the hotel area. The hotel is located next to Souk Al Bahar. Limousine transfers are available on request and airport transfers can also be arranged. Surely this will be one of the superior experiences for your family trip.
The most reasonable time to visit Dubai is in the winter, around October to April, when the weather is cool and pleasant. At this time, the sky in the whole city is always blue. The beautiful beaches are ready to serve tourists visiting famous places and landmarks. Dubai is a destination that attracts a large number of international visitors, especially during the high season. To make sure you own the right place to stay, you should actively book a hotel room at least 2-3 months in advance if you plan to explore Dubai on your own.