Ireland is a beautiful country and is considered one of the most livable countries in the world. In particular, must include the beautiful Dublin capital of Ireland. Dublin has excellent museums, parks with gentle and romantic scenery and interesting cultural exchanges. Dublin people are happy, gentle, and witty. All of Dublin will give you are experienced when visiting. And so, besides a schedule with the best things to do in Dublin, you also need to prepare yourself a suitable accommodation for a family trip when coming here. So, list 10 best family hotels in Dublin below will help you have ideas and references to choose yourself the best hotel with your family. Certainly, you will have an exciting and fun journey to Dublin.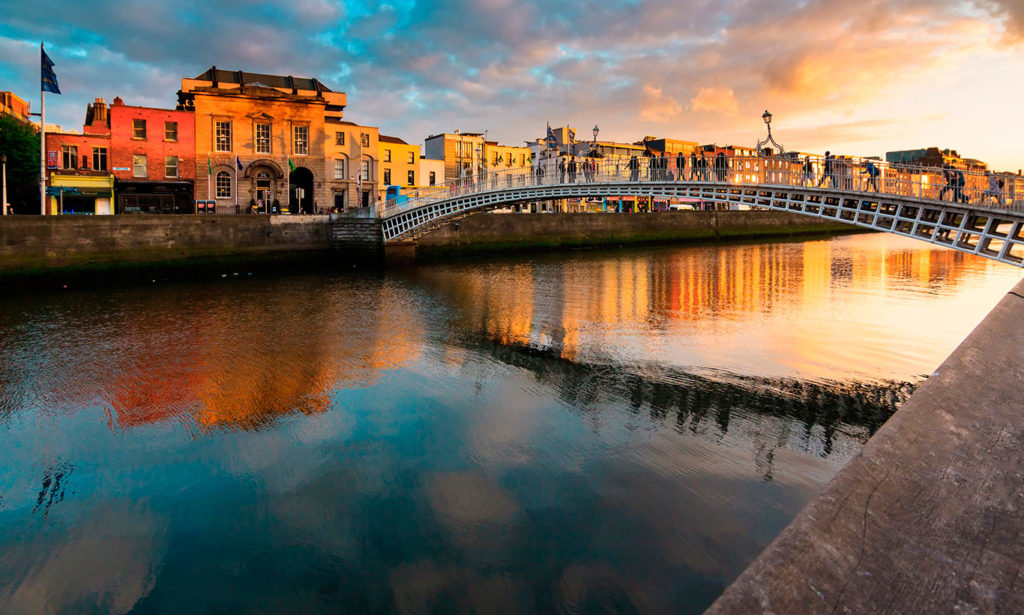 1. Pembroke Guest Suite
Apartment guest houses will be one of the best family hotels in Dublin for your trip. And Pembroke Guest Suite is one of the hotels you need to consider when traveling to Dublin. The hotel is located near RDS, Aviva Stadium, and Leinster House, giving you convenient access to visit at those locations. Just a 14-minute walk from the National Museum of Ireland, it will be interesting if you plan on a walk with the whole family to visit this museum. Spacious apartment with an outdoor garden, living room, kitchen with full toaster and refrigerator will help your family have a comfortable day in Dublin.
2. Maldron Hotel Smithfield
Maldron Smithfield Hotel is one of the hotels with beautiful architecture and panoramic city views from the windows of the hotel rooms. The rooms here are spacious, suitable for a whole family trip. In particular, in the hotel area, there is a Grain & Grill Restaurant & Bar with Irish and European cuisine that will help you have more options for your meals during the trip. The hotel is just a 10-minute walk from Dublin Castle and Guinness Storehouse, so it would be great if you plan on a street trip to visit these places. With the convenience of room and surrounding services, you will surely have a wonderful stay in Dublin with the Maldron Smithfield Hotel.
3. Hyatt Centric The Liberties Dublin
Hyatt Centric The Liberties Dublin is one of the hotels with large gardens so you can have moments of relaxation in the garden here. The hotel is located near St Patrick's Church, Teeling Whiskey Distillery, and City Hall. From the hotel, you can move easily to those famous places by taxi or on foot. The hotel with large rooms fully equipped with a wardrobe, TV, and private bathroom helps your whole family feel comfortable during their time in Dublin. In particular, a breakfast buffet with English and Irish dishes will help you start a new day full of energy.
4. Family apartments
Family Apartments is one of the places to help you feel comfortable at home. The hotel is located in the Dublin district, the heart of the city. And so, the hotel is just 1km from the Irish Migration Museum and 1.1 km from Croke Park Stadium. Common living space and a kitchen with full kitchen utensils will help families with kids for preparing their meals. Although the apartment is shared, the room still designs a private bathroom, convenient for your whole family to stay here. This is also the place where couples choose to be especially fond of visiting Dublin.
5. The Grafton Hotel
If this is a trip that you prepare with huge budget and want to stay in a luxurious space, Grafton Hotel will be a good choice for your family. The hotel is just 0.3 km from Dublin Castle, 0.4 km from the Olympia Theater so it is convenient to travel to these attractions. Spacious rooms will help your whole family stay comfortable during the trip.
6. Clayton Hotel Cardiff Lane
Clayton Hotel Cardiff Lane is located next to the poetic river and overlooks the Bord Gais Energy Theater. The rooms at the hotel are spacious, modernly decorated and colorful, making your living space more vivid during the time here. The hotel also has a 22m swimming pool, sauna, steam room, this will definitely be a place for your family to relax and rest after days of visiting the city. With Stir Restaurant serving both European and Irish cuisine will be the perfect choice for exploring Irish cuisine.
7. Camden Court Hotel
Camden Court Hotel is just a 10-minute walk from Dublin Castle and Temple Bar. This will be a convenient option and one of the best family hotels in Dublin for your family trip. The hotel is located on the Luas line, the Dublin tram system, extremely convenient for a trip using public transport. The rooms here are decorated brilliantly, surely the children will be extremely excited. In particular, the hotel has a pool and a sauna. This is the place to help your family relax after playing and exploring Dublin.
8. Belvedere Hotel Parnell Square
Belvedere Hotel is in the heart of Dublin, and very close to Dublin's famous O'Connell Street. The bedrooms here are decorated in a variety of styles and colors, making you feel comfortable here. The hotel rooms will have beautiful windows with views overlooking Parnell Square. Especially, if you come here every weekend, you will enjoy exciting live music with Irish. Breakfast is provided for guests' convenience in the mornings before the start of a day in Dublin.
9. The North Star Hotel
The North Star Hotel is located directly opposite Dublin Conn Connolly Station, making your public transportation trips easy. Spacious rooms and some with balconies will help your whole family stay comfortable. The hotel's restaurant McGettigans Cookhouse, which serves Irish specialties, will be one of the places you need to try while in Dublin.
10. Holiday Inn Express Dublin City Centre
And finally, one of the 10 best hotels for your family in Dublin is the Holiday Inn Express Dublin City Center. The hotel is located right in the heart of Dublin, on the famous O'Connell Street. In particular, at the hotel, guests can choose their pillow preferences, and light curtains and double-glazed windows are also included in the rooms to ensure guests have a peaceful sleep. With the hotel's on-site coffee shop and bar, you will have more family meal options during your time in Dublin.
Ireland is a country influenced by the temperate oceanic climate. Winter in Ireland is quite warm and summer is extremely cool and pleasant. Overall the climate in Ireland is quite mild and pleasant, so you can travel to Ireland at any time of the year. However, according to the experience of Ireland tourism, the best time to come here in summer. However, Ireland is a country with relatively high rainfall so no matter what season you go, you should always prepare umbrellas and raincoats. Because it is raining in Ireland at any time, it is difficult to forecast. And because in the high season, hotel room prices will increase, you can hardly find a hotel room that suits you and the price. Therefore, you need to find out and book a hotel to be able to find a good price room and have more incentives from the hotel.